WORLD CUP….. This combination of words sounds good.


The influence of World Cup is terrific. The whole world is talking about World Cup. I've never sat on sofa to watch the broadcast of Olympic Games. But I do catch World Cup………. Just to support my favorite team, JAPAN. I support them not because of their skill but Japan is my dreamland where I can find a lot of gorgeous girl with superb make up, handsome guys like Hideaki Takizawa and most attractive, trendy, fancy and irresistible fashion and ladies' accessories. Another reason for my infatuation towards Japan is their sophistication which proves "Asia Boleh".

All Japanese players were tanned thus they didn't look so pretty. But I found one I love. This lucky guy is Keiji Tamada, Jersey No. 20 (Forward).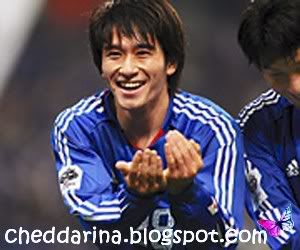 Local illegal bookies are the main channel for Malaysian to place bet. But this world is under revolution switching from mail to E-mail, business to E-business, banking to E-banking and many more. So we have "E-bookies" as well. For those who are strange to this, faster awake and start learning if you think you are an updated and professional gambler.
I've already prepared a directory for you. Thanks me with a meal pls ….
These are few bookies for online sports betting with different betting method:
Asian handicap bookies :
ladbrokes
& pointbet
Fixed odd bookies: William Hill


Malaysians are more familiar with Asian handicap betting method. The bookies listed above are quite established but William Hill's compensation rate is relatively low compared to others.
For those who do not have Astro but want to know the score during the match can check out at livescore. But i know you will almost get heart attack if your rival team's score is higher.

If you are a begginer of E-gambling, you can just go to bethelp and find all the sort games and things which are avaible for betting. I'm pretty sure you will become more skillful than me very soon. (I'm not skilled at all cuz I'm not interested in gambling)

You are suprised with my knowledge in soccer betting? But I mentioned I had "ZERO" knowledge in football in my last post? You're fooled.... You have forgotten that I am a PRETENDER?

WAHaha….

World Cup is undeniable a great opportunity for merchandisers to reap profit. From small "Mamak" stalls or shoplots in shopping complexes to listed company such as Maxis, Digi…… But most deceitful is the SMS contests. They think we are "Water fishes". The easiest way for them to press "Water fishes" is just by designing some stupid games or questionnaires and then do paper and online advertisement to lure fishes. They just need to sit and wait for the "water" to go inside the "pig cage".

So say "NO" to sms contests if you do not want to be the "Water Fish".