This tour to Bangkok was a company trip. It's my last company trip because I've resigned and would back to enjoy my college life to complete my degree. Thank to my boss for giving me the chance to fly to Bangkok even though I've already resigned.

We flew by Air Asia. Because it's a low cost carrier, we had to use the LCC Terminal. I was new to this LCC Terminal but I found it's so small like the airport in Gui Yang, China. Not only that, Yee told me that this airport looked like Giant hypermarket due to its low-cost design. Oh my God…..

Let me introduce you the group of S.H.E (Sexy, Happy and Elegant) and F3 (Fat Three).




From left to right. (Girl: Siaw Chuen, me and Siok Leng); (Guy: Yee and Pang). My boss was not in this photo coz he was the cameraman. I look pale without makeup right?


This is my first visit to Bangkok, a shopping heaven that you don't want to leave once step in.

I enjoyed the journey from airport to town because I discovered many things that were so different with our country.

One good business venture I think can be profitable apart from tourism is advertising because they have MANY billboards placed along the road from highway to town. Another discovery was their taxis were wearing conspicuous colours like orange, yellow and pink.






Bangkok is a developing country with focus in construction industry as I saw many empty lands were under construction and therefore it's quite hard to get a constructional-sound-free hotel.

If you scare of the traffic jam in KL, then I think Bangkok is even worse. We took about 2 hours from airport to our apartment. Traffic flow was damn congested especially in Sukhumvit area- a famous tourism district.

We stayed in Somerset Lake View Serviced Apartment which is located at Soi 16, Sukhumvit.




Lobby of Tower B.


The 3-rooms apartment was really comfortable and cozy with a kitchen, dining hall, a big living hall with sliding glass door and the happiest thing was there were 4 washrooms in the apartment. So I no need to fight with the girls to use the washroom to do "painting" on my photogenic-only-with-makeup face every morning.



View from apartment's living hall at 14th floor.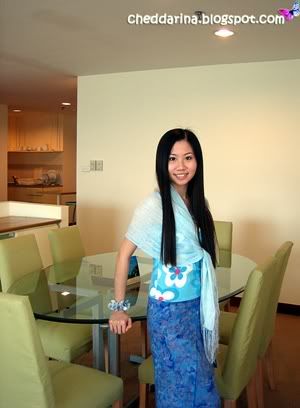 Dining hall


Lunch at Wyndham Thai Restaurant and Bar behind the apartment

We ordered 3-course setlunch.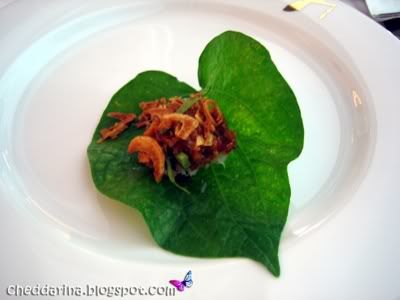 We had fresh crab & roasted coconut salad as the entree. You need to use your hand to wrap the crap and roasted coconut with the leave and put into your mouth in order to savor this special Thai salad. I love this the most.


I was so hungry until forgot to take down the photo of all the savory main courses.

These were the mouth-watering desserts we had.



Warm chocolate cake



Fresh mango caulis & Home-made sorbets




CRC Tower at Lumpinee

After the luncheon, we went to CRC Tower at Lumpinee to have a business meeting with boss's friend from Merchant Partners Securities Limited under no-choice condition.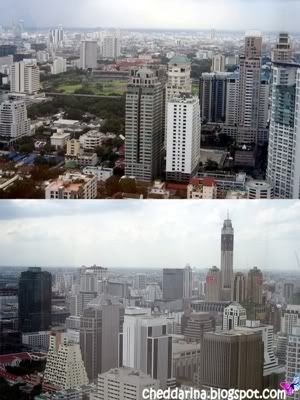 The meeting room has extremely nice scenery.

The meeting was boring and made me felt drowsy although I was the "temporary secretary" appointed to record minutes.

We planned to go to Erawan Shrine after the meeting but Mr. SKY sulked and it wept when we walked towards our destination. But fortunately we are all brainy and always have contingency plan in mind, so we opted to go to the nearest shopping district, Siam by BTS.



Chit Lom BTS Station

Siam Paragon

The landscape of Siam Paragon is wonderful. It makes me embarrassed about the shopping complexes in K.L. and I won't mention we have Mid Valley, Time Square, Sg. Wang ………… to Thai.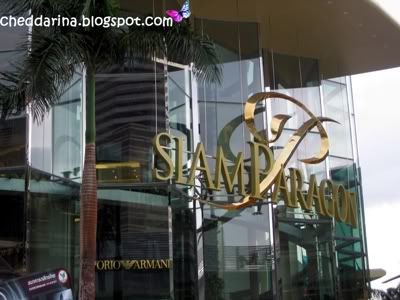 Façade of Siam Paragon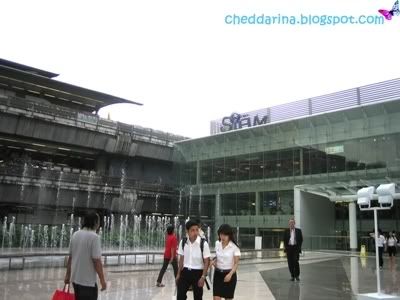 Siam BTS station can link to MBK Center, Siam Discovery, Siam Center and Siam Paragon. Many department stores and shopping malls are here. With dozens of shops and restaurants, you can find many fashionable boutiques, book stores and antique shops.



The spectacular design of Siam Paragon's lobby is so impressive.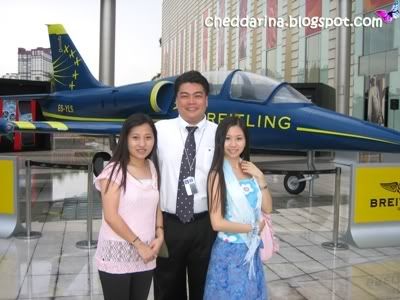 A small airplane was displayed near to the entrance of Siam Paragon. Camera flashed, flashed and flashed because all of us were so excited to take photos as fast as we could because it seemed to rain again.
Siam Discovery

After all the posing jobs in order to satisfy my photo-shooting-mania-desire, we proceeded to Siam Discovery to do market research for ladies' garments before indulging ourselves in Bangkok's make-you-crazy-and-frantic shopping spree.
This garment outlet was having sales and it was crowded. After having a glance at the no-trying clothing, we posed in front of the display window to take some photos in order to reimburse the fruitless shopping trip.
I want to be a "摸"特儿.
We went to Haagen Dazz to have some thirst-quenching ice-creams and drinks before departing to Anna's Café for dinner.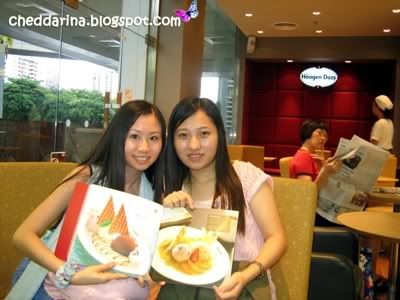 This is the famous MBK Centre and it's one of the busiest.
Dinner at Anna's Café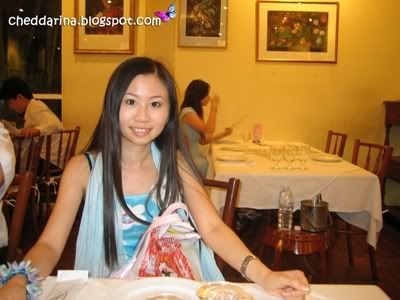 This is Anna's Café, which was the shooting-place of a famous film, Anna and the King.

We ordered a lot of foods because the price was so cheap until we couldn't stop ordering.
I ordered fish fillet although all of them ordered sticky rice. (cos I just don't like rice)
The most delicioussss was King Fish with Thai special sauce. Soft shell crab with curry was not bad too.
Although the restaurant looks nothing special, but it offers appetizing foods especially its specialty- cakes.
Banyan Tree Hotel
After the dinner, we helped the food digestion by walking to Banyan Tree Hotel. We climbed up to the Gallery at 59th floor to visit its open-air restaurant.
They use heavy materials as their menus and dishes because you can imagine how strong the wind at 59th floor is.
I imagine how they could operate their business if it rains suddenly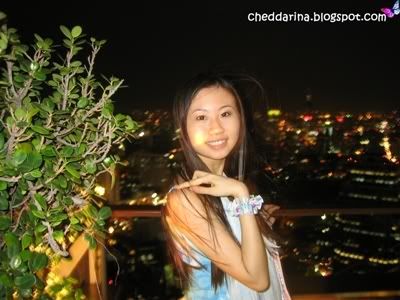 It was fantastic… Except the breath-taking night scene, I liked the natural and cool breeze here after the bath-in-sweat walk.

But it's too bad that I couldn't take a nice night scene shot with my camera.

We just walked around and took photos as fast as we could before the waiter chased us out coz we didn't order anything. Simply because the price of foods and drinks here were exorbitant. A glass of juice is about 700 Baht which equals to RM 70. (Kill me please…..)

Patpong Night Market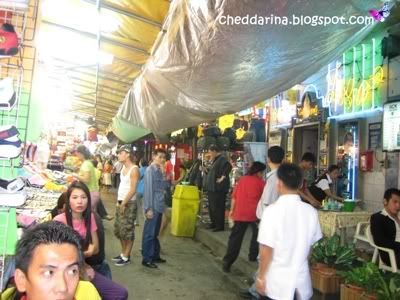 The final destination for first day was Patpong Night Market. Patpong is well-known for its night life because all the go-go bars that offer "tiger show" and "special services" are adjacent with the night market.I felt annoyed when passing by the bars coz people touted and kept asking us to go in.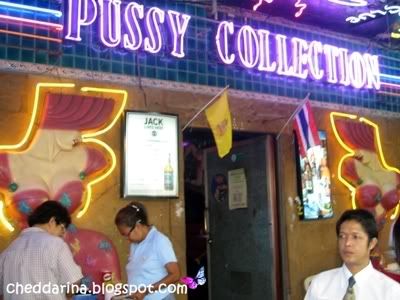 People would be attracted to the …dance that we could watch from outside through its main entrance. So I think the looks of the bars are not important to them. The night market is exactly same with our Petaling Street. They sell fake 'brand-name' items, CD's, souvenirs, t-shirts, etc. All items here are pricey and we had to bargain for few minutes before buying.
I hate the vendors here because they are rude. When I stopped at a souvenir stall to bargain for an item, Pang helped me to do fast-bargain by offering a damn low price to the female vendor and you guess what the f**king words came out from the woman's mouth?
She said: "You go and buy condom!"
What the hell? I was so surprised and %$@&?# almost blurted out from my mouth. I was like wanted to tell everyone here to boycott them. This is how they treat their potential customers? They are worse than the vendors in Petaling Street.
We went back to apartment at about 1am by taxis after shopping at this nightmarish market.