Breakfast at Cool Chili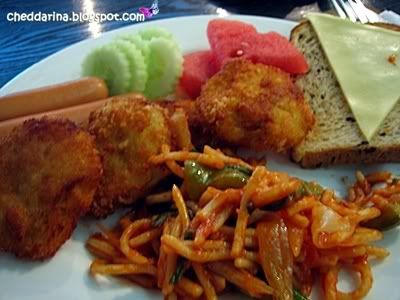 Very nice breakfast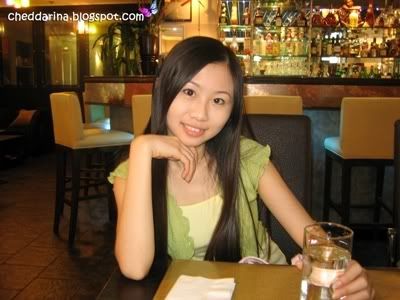 My favorite drinks….. Plain water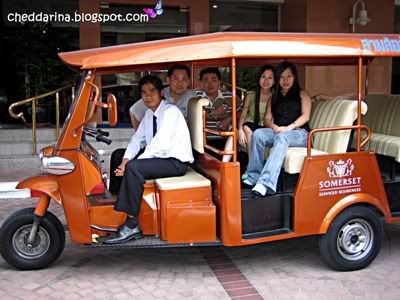 Tut-tut car service is provided by apartment to the main road near BTS station
GRAND PALACE

Grand Palace is located in Ratanakosin Town of Bangkok and it houses not only the royal residence and throne halls, but also a number of government offices as well as the renowned Temple of the Emerald Buddha.

Because Head and Finance, Yee and Sook Leng didn't want to visit the Grand Palace, so Pang sacrificed himself to be the "envoy" to protect 2 pretty "flowers".

The admission fee is 250 Bahts per person. Visitors must be in proper attire otherwise you must get the shirt, pants or long skirt at the entrance by paying 50 Baht deposit which is refundable upon return of the clothes.

Grand Palace was crowded although it was just 10 o'clock in the morning.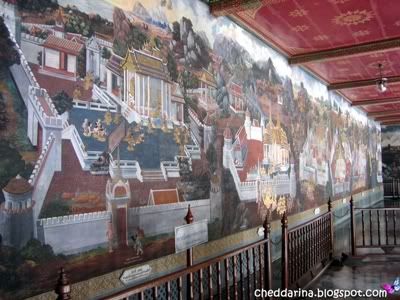 Wall painting
This is The Upper Terrace

Model of Angkor Wat
The Royal Patheon


Golden Buddha is falling down!!!


Two giant size statues are located near the main entrance


The Royal Monastery of the Emerald Buddha
Come closer… closer! What you think? I ask you to see the material of the pillar la


The Chakri Maha Prasat
Oh No! The warrior blinks his eyes!
Dusit Maha Prasat Hall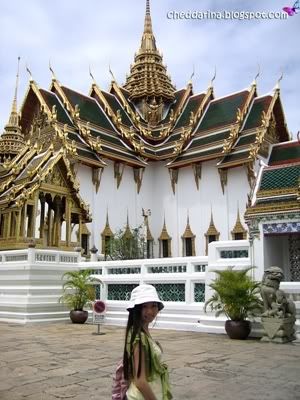 LUCKY BUDDHA

Because of the Head of Finance, we had to sacrifice our precious time to follow him for a tiresome and exasperating trip.

Transport: Tut-tut car that mess up your hair and dirty your face
Duration: 1 hour 30 minutes
Places visited: Lucky Buddha, Gemstone Factory, Fashion House and Jewelry shop


It took about 10 mins from one place to another place. I suffered from the pores-clogging trip. You should know how bored the visit to all rubbish jewelry (evil-ry) factory and shop was.

I think I need facial therapy after this trip.



2 seats Tut-tut car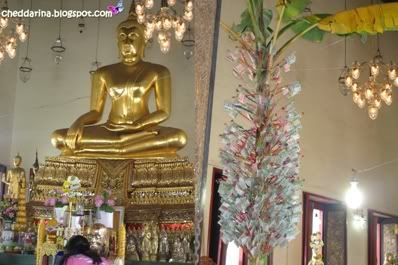 Lucky Buddha and the Money Tree


Gemstone Factory- Goldsmith & Cutting






Fashion house




After being conned by the tut-tut car drivers gang (but I thought it was the Head of Finance's fault to take this petty advantage, we told the them that we wanted to go to Chatuchak Weekend Market and they just dropped us at the nearest pier and asked us to take the ship to Sathorn Tier and transferred to BTS to avoid congestion.



Chao Phraya River Cruise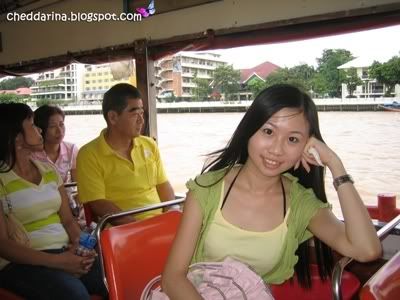 The river colour is yellow colour.. looks dirty
Where is the "head" of Head of Finance?
Chatuchak Weekend Market

(I hate this place)

SURPRISE!


Before entering the market, I saw this MAN that dressed like a lady to "sell sing". But he couldn't sing well. OMG! It was revolting!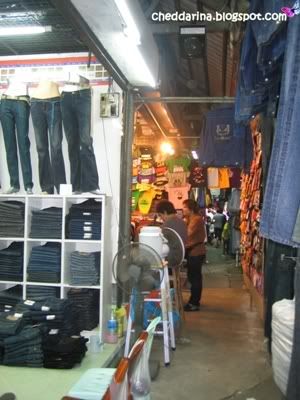 Chatuchak Weekend Market is the king of markets in Bangkok. Items sold in this market are clothing, jewelries, handicrafts, antiques, ceramics, pets and etc.

A free market map can be obtained when you enter this market. So you can imagine how big the market is. It would take days to see all of this sprawling market.

The market was hot like hell and it was crowded. Because it's too big, we didn't know where to start and where we could find the things we want.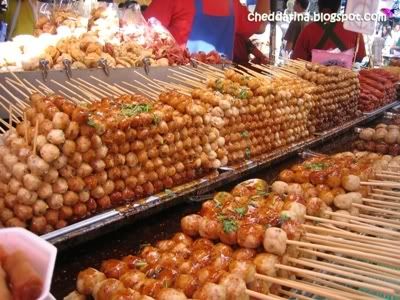 Make-you-drool meat balls. One for 10 Baht. But the sauce was too spicy.




I hate this place coz this is where I lost my purse. I lost my credit card, ATM card, IC, driving license and

4000 Baht

.

And the worst was the police station here was not a police station because they couldn't issue a police report although I had told them everything and filled in my details. The stupid policeman requested us to go to another police station to get my police report.

F*ck you man! This is the way how they help the tourists that help contributing to their country's income?

I didn't go to another police station to collect my report cos I thought it would be useless.

No mood to shop anymore. I lost EVERYTHING!

So we went to Platinum to get me out of the black shadow.


PLATINUM (2nd Round)



This is SUN STAR Gift shop… they sell many fake brand gifts like Mickey, Barbie…..

ERAWAN SHRINE - Four Face Buddha (Second round)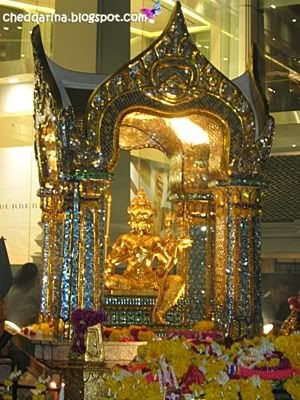 To pray one more time before we back to Malaysia on tomorrow
DINNER AT LITTLE ITALY, SUKHUMVIT



The pizzas were nice




Next stop….

….
………..
…………………


SOI COWBOY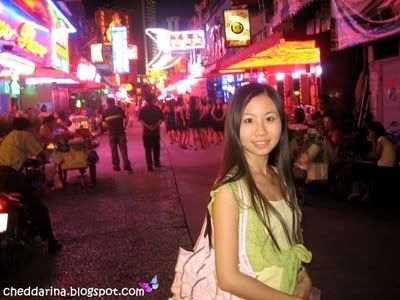 This is another place for you to experience Bangkok's nightlife. But this is safer than Patpong.

We just walked and looked.






The girls sit outside the bars to tout.




We left after taking some photos because the 3 big guys said the 3 girls were "underaged" wor...