This blog is obsolete.............. The internet connection in hostel sucks and I'm unable to upload my photos and thus I can't blog when i want to blog. DAMN!
Back to the story........
Since it was the beginning of my semester and there was no new project for me to handle, so i submitted my photos to Nan Yang's office to take part in the Miss Nan Yang N.S. beauty pageant. As expected, my photo was published on the newspaper.
They called and asked me to go for the first round selection at Oriental Restaurant on March. I was not in good mood that day due to some reasons.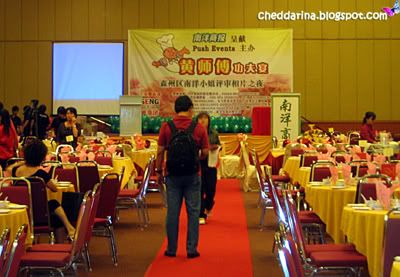 Here I come!!!
Olivia and me..... Many of the contestants asked whether we were sister.... But i don't think we look alike
My neighbour, Mei Yee
All contestants were in white top and long jeans
Dorothy, a frequent participant in beauty pageant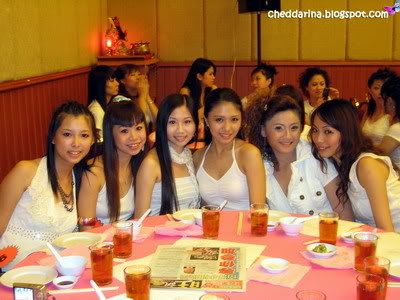 Some contestants were so sociallable and they tried their best to flirt in order to leave an impression in the chief judge's eyes. I hate this kind of pretending...... I really cant pretend to be so "hiao" which i think is "cheap".
The person in charge of this pageant told us this first round consisted of three stages.
First stage, photo assessment. They were like those uncles in Malaysia choosing their wife by just viewing the photos. So those unphotogenic contestants would hate this type of assessment.
Second stage, cat-walk assessment. I thought we supposed to do a self-introduction on the stage but disappointedly they just wanted us to do simple cat-walking on the stage. Judges would give marks without assessing our communication skills. So if your appearance is and body is not attractive enough, and you don't know how to flirt, then you are out of the pageant i think.
Third stage, interview. This was the most stupid stage where they called 20 contestants for interview during a dinner at Oriental Restaurant. Can you imagine how they interview us when all of us is having dinner and all the contestants don't have their numbers labeled? Ridiculous...... They made me felt that all the contestants were like those lounge girls companying big boss to have dinner. I hate this kind of dinner and I'm not those "xiao jie". We didn't talk much because the judges were also busy eating. The judges just took out a piece of paper with our name and number, then they gave marks by just looking on our face. A standard beauty pageant can be like this? There were 19 judges and they were mostly male. This group of male judges are neither fashion designers nor stylists. They are the president to some associations.
"Interview".........
Same with Miss Sin Chew Daily, this pageant also wanted to boost its newspaper sales by a way of vote. There were 3 prizes for the top three contestants with highest vote. I didn't even submit the votes I have collected to Nan Yang's office. I thought my vote ranking should be at the last but surprisingly I had more than 1000 votes. Who voted me?


Anyway, I was not shortlisted to enter into the final. From this experience, eventually I know the "darkness" behind the scene of beauty pageant. And I believe you guys also understand what would be the "darkness".