I only have time to blog about my Taipei trip on last year December. I know this post is super duper obsolete because the "

most efficient

" internet service provider, TMnet hasn't able to fix the line for my broadband connection since my subscription on December last year.

Flying to Taipei was not that cheap during the peak season in December. The worst thing was all the seats were fully booked in the whole December according to almost 10 travel agencies that I had called to. Hopefully Airasia could make a route to Taipei so that I can fly over there more frequently. I managed to get the air tickets because somebody had withdrawn from the trip…. Oh...

I was damn lucky!



Taipei's winter is warm and the lowest temperature was only 16°C at night. It is a very very nice place especially for those who want to gain weight. Even their instant cup noodles are better than the food in Malaysia's foodcourt. I'll prove to you later. Despite all the hustle and bustle, you will always feel safe in Taipei and their local extremely friendly people will make you feel welcome.
Here's the photos ............
Checking in at KLIA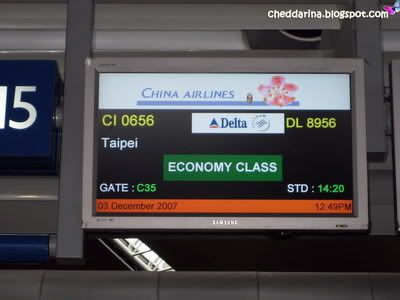 Flying with China Airlines
Ready to board
What I like to do when I'm in the plane is to take pictures… not my pictures but the scene outside the window…. The cloud looks like cotton candy and it's so amazing and always makes me feel delighted because I feel myself is at a different peaceful world (heaven).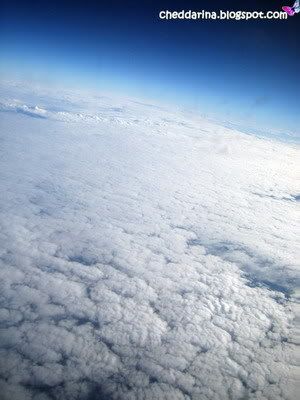 After 4 hours and 20 minutes' flight, we arrived at the Tao Yuan Airport.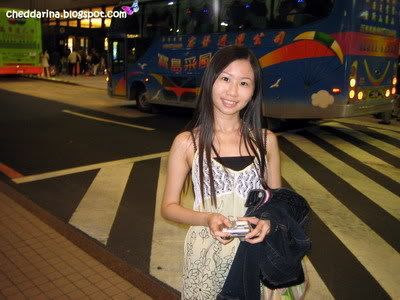 Although it was winter, I felt extremely warm when I stepped out from the airport.
We were transferred to hotel after arranging our half day city tour for tomorrow with the local travel agent. We stayed in a three star hotel called Da Shin Hotel. The room was exactly the same with what I viewed from their website. I couldn't believe that the hotel rooms in Taipei are about the same size with those in Hong Kong.


Let's have a peek on my room.......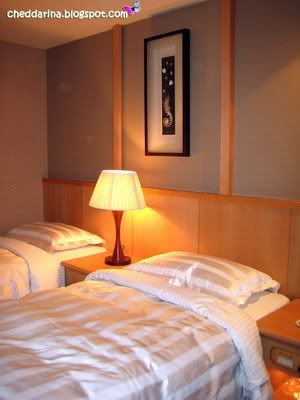 Although the room was small, but I believe this hotel is much better than other three star hotels because it is newly renovated. The room looked really nice and the bed and mattress were extremely comfortable.

The hotel is strategically located because the MRT station is just within 5 minutes walking distance and there are a lot of shopping centres and convenience stores along the street.

The main road nearby hotel
Since it was only 9.30pm, we decided to go to the most popular
Shi Lin Night Market
.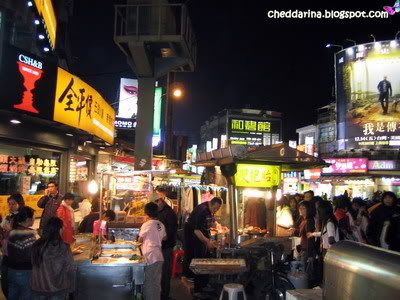 Here we are…….....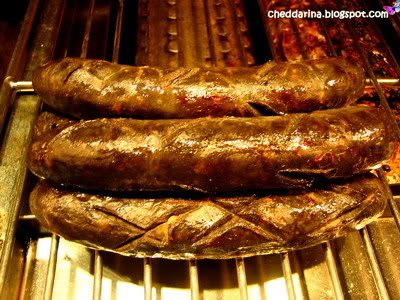 African Cuttlefish's juice hotdog. NT$ 100 for 3. Quite expensive I could say. It tasted a bit weird to me


I did not know what else to eat so I bought another type of hotdog again. U know why? Because I could find hotdog stall for every ten steps I walked in the market. I do not know why hotdog is s popular here………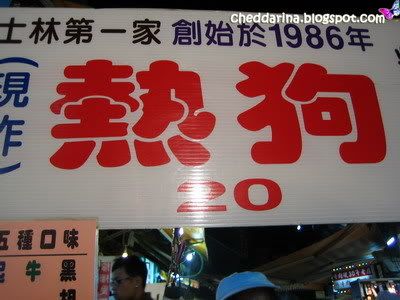 Hotdogs
Hotdogs again?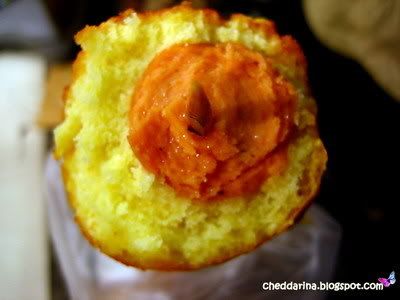 Why so many hotdogs?

Then we bought the attractive-looking "spiral potato chips". NT$ 450. There were 6 flavours of powders that we could choose from. I chose the best-selling plum flavour and my favourite cheese flavour. Quite nice but still couldn't beat my favourite Pringles cheese flavour potato chips.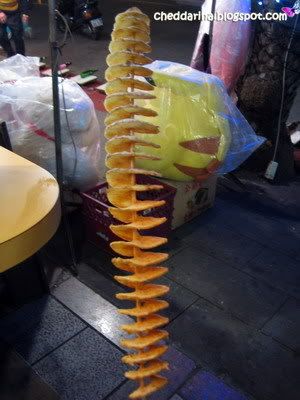 I found "playstation" right for me in Shilin market…… Haha
There were many stalls selling hats and caps, gloves and socks, shoes and jackets…….
Suddenly I saw the popular "Ah Zhong Mee Suah" but my stomach was already half-full. But I still ordered a bowl because I didn't know whether I could find it again at other places. It's the best mee suah I've ever tasted.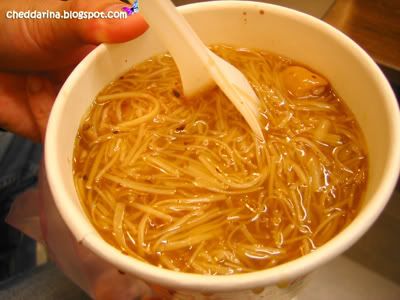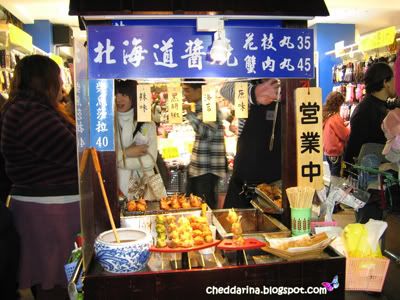 After filling our stomach with sufficient foods, we went back to hotel because the last train was at 12am and we had to wake up at 7pm because the bus driver was going to fetch us at 8am tomorrow.
Okay. So that's all for my first day in Taipei. Stay tuned if you want to know more. More foods, more shopping and more scenes are coming…..