Half day Taipei city tour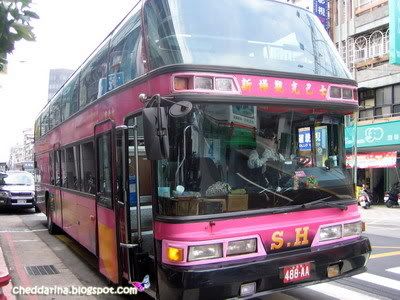 Our tour bus
Taipei city in the morning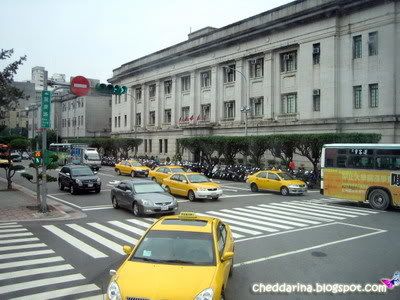 Our first stop was the famous Chinese palace-style building, the
Chiang Kai Sek Memorial Hall
(Zhong Zheng Ji Nian Tang).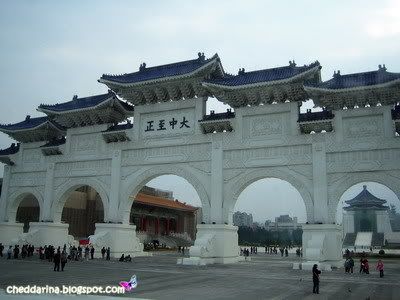 The people holding green and red flags were those to support and oppose to the dismantlement of the words of "Da Zhong Zhi Zheng". Since this incident was actually involved in political fight, the tour guide advised us not to approach those people holding big green and red flags on their hands because we might be caught by police or even be beaten by public.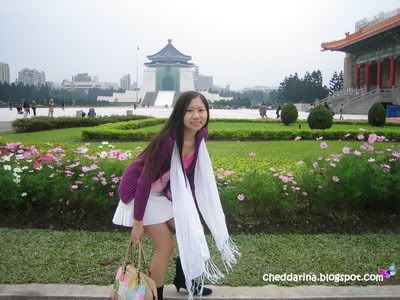 This was the head topic of the daily news in Taipei during my stay. What I saw on the TV every night was this ……..
As you know tour guides are not tour guides if they do not bring you to any place that is time-wasting and boring for you to buy the local products for their commission. They use smart ploys by telling you some interesting and funny grandmother story in the bus to raise your curiosity and then indirectly convince you and finally bring you to the shop for their extra pocket money.
So we were brought to the "Alishan" shop where Alishan people sell "Ling Zhi" and royal jelly.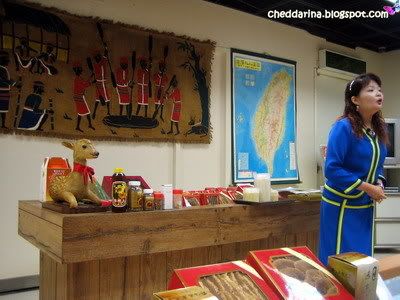 Alishan Gu Niang was explaining how miraculous their "Ling Zhi" was.
You would never know how whether this "Ling Zhi" is real or fake because China-made fake Louis Vuitton handbags are also actually same with the original one.


But the tour guide in Taipei was actually very friendly and polite person and didn't turn a smiley face into a "u-don-buy-I-curse-you" face even though we did not purchase anything from the shop.


Next stop was a historical place called "Zhong Lie Ci".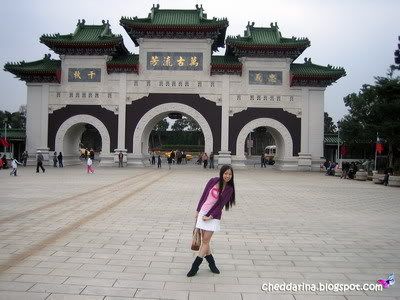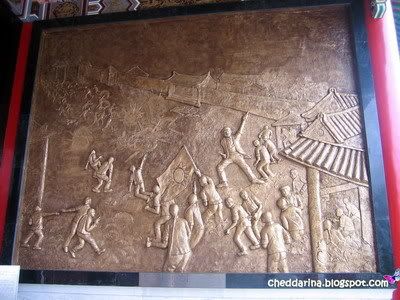 After 15 minutes stay, we proceeded to the
National Palace Museum
.
This fully modernised museum provides earphone to each of their visitors so that everyone can listen to the tour guide clearly without having the tour guide to raise her voice.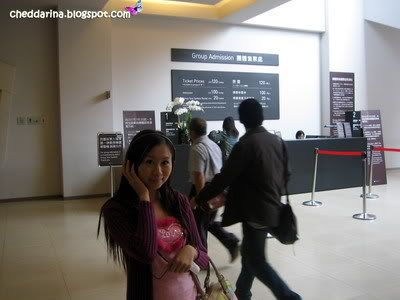 I'm not interested in visiting museums because I do not like those precious and meaningful collections ……. Unless I'm allowed to take it home. HAHA. What's more, no photo shooting is allowed in the museum and this makes me feel bored.
After viewing a few series of collections, we were allowed to take breath outside the museum. Hurray!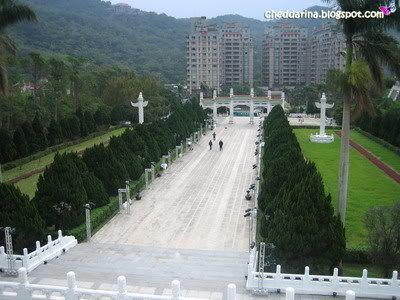 The last stop was a shop selling "Pi You". "Pi You" brings luck and prosperity according to the Chinese traditions. They sold at freaking sky high price and I believe I could buy it at less than RM50 for a pair in China.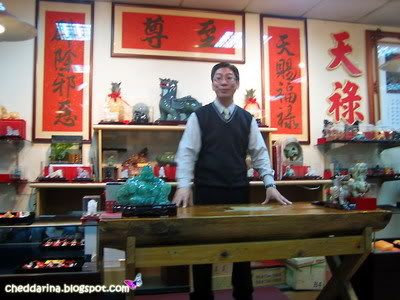 The "Si Fu" in the shop, who gives advice on the type of "Pi You" for every individual based on their names.

It was really unfair for us because we were just allowed to spend 15 minutes for every scenic spot but when they sent us to those shops, they would dump us there for at least 30 minutes. But I had no choice since this trip was complimentary tour for our booking of hotels and air tickets.
The most enjoyable thing during this city tour was getting to know some of the histories and cultures of Taiwan.
**

COMING UP NEXT

**
Shopping at Xi Men Ding, Taipei 101, Wufenpu and Raohe night market