I was shortlisted to attend a career forum by United Overseas Bank (Malaysia) on last Friday and their assessment centre on the next day at Park Royal Hotel. The purpose of this forum was to brief us about the bank's Management Associate Program.

UOB MA 2008 Career Forum
As what I've expected, more than 100 candidates were shortlisted for this career forum and the interviews. But what surprised me was the way they organised this forum. Do you know why?

1) We were not required to fill in any application form and they distributed a UOB goodie bag to every candidate.
2) Welcome drinks were served.
3) There were many UOB staffs interacting with candidates to share their experiences of working in UOB as well
as answering the questions of candidates.
4) There were staffs holding cameras and video cameras targeting all of us
5) Refreshments were served after the forum.


*Please pardon my poor quality photos because as a candidate, I was only able to snap few photos with my phone camera.

Orchid Ballroom at Park Royal Hotel

Looking for new boyfriend and girlfriend? Plenty of choices here
Refreshments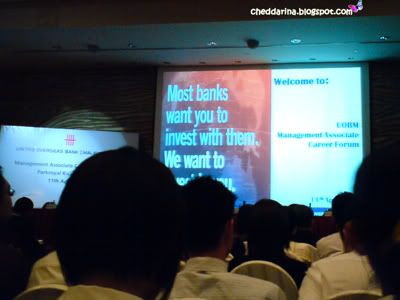 I was impressed by their remarkable and interesting presentations in the career forum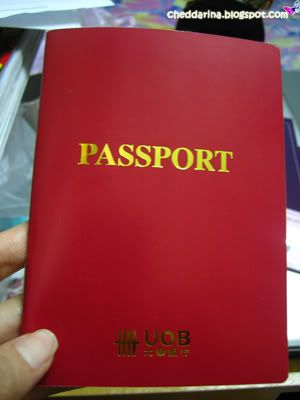 We were then given a passport and immigration card of UOB. The immigration card was used to fill in our details and the divisions we would like to choose.
I never expect the forum and the interviews would turn out to be so grand. This heavy and magnanimous investment proved that UOB places high value in their people in order to drive the success of the Bank.
Let me give you an overview of this program.
Management Associate Program is a 15-month program which aims to groom talents to be the future leaders of the Bank. Various type of training will be provided during the 15 months in "University of Banking" (UOB) and it includes job rotations, core training, simulation workshops and on-the-job training. After 15 months, MA will be promoted as senior officer and they have the choice to be placed in either business or support divisions of the bank.
Ok. I know most important thing you concern is the
salary
of the position and this was the reason why I applied for this position. What I can tell you is that,
UOB pays above the industry average
and the remuneration package for this position is just so attractive. In addition, UOB has a promotion scheme that clearly outlines the career progression and what surprises me is that, you can be promoted as a manager within 4 years time if your performance is good.
If you are not from accounting or finance background, don't worry. As long as you are competent, dynamic and result-oriented, they will always welcome you to join this "Uniquely Outstanding Bank". However, they will only have one intake for this program every year. For next intake or other vacancies, please click
here
.

Surely, this golden opportunity does not come by easy. All candidates have to go through four stages of selection, i.e. round one and round two assessment, online personality test and panel interview.




UOB MA 2008 Assessment Centre

We were told to arrive at Park Royal Hotel at 8am for breakfast. Yeah! UOB is just so great and rich. Not only breakfast, but they also provided lunch and high tea.

Instead of name, we were given a tag with number. The assessment started at 9.30am and ended at 6pm.

First round assessment was to examine our communication skills. So we had a breakfast assessment. Could you imagine how did they assess the candidates while we were all having breakfast outside the grand ball room? I won't tell you. You guess…..

After breakfast assessment, all candidates were put into groups and we were given a topic and required to discuss our experiences and opinions with the assessor. Everyone was so aggressive in giving their views. I was damn lazy to fight with them actually. But for the sake of MONEY and my future, I forced myself to be aggressive as others in order to get opportunity to talk more.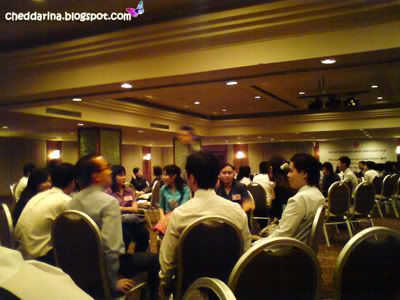 Group discussion in the grand ballroom

Time for LUNCH
We were advised to eat as much as we could during lunch time because only 65 candidates would be selected to proceed to Round 2 assessment.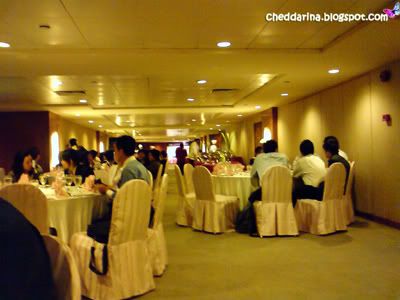 We had a 2-hour lunch break.
Sing Pei & Me. She looks like Sammi Cheng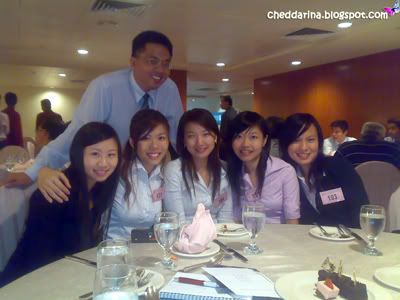 Finally, it was the time to announce first round result. Everyone was so excited and nervous. Many of the candidates' numbers were not being called to enter into the ballroom, including my number as well. Ok…. We were all waiting for their instructions to send us home.
Assessor : Don't be sad if you are not selected because you just don't have the competencies we are looking
for. Candidates, please come forward. How do you all feel now?
Candidates : Fine *Only a few responded*
Assessor : Please face back. Can you see the door in front? *We were facing the exit of the ballroom*
Candidates : What? We don't see any door there.
Assessor : Welcome, candidates! You are now invited to continue with the Stage 2 assessment!
Candidates : Yeah! *Big applause*

Yeah yeah! I was shortlisted for the stage 2 assessments which comprised of two tests to examine our creativity and teamwork skill, as well as a written test and individual presentation.
The assessments were very challenging and what I benefited most was it gave me a more detailed insight of the functions of different divisions in the bank so that I can clearly know what position I want for my future application in other banks. In addition, I had so much fun during the forum and interviews because all the UOB staffs were very friendly and I get to know many new friends from different backgrounds.


P/S: I'm invited to go to the Torch Relay of 2008 Beijing Olympics at Dataran Merdeka on tomorrow 1pm. I'm kinda lazy because I hate outdoor activities during noon time. Go or not go?