You may feel confused as I just start working this month and how come I can be entitled for company trip? Ok, let me tell you, this entry is supposed to be posted 3 months ago.
For your information, I worked as a part-time project coordinator after resigning from the full time position on year 2006 to further my degree. So I was entitled for the last company trip even I was just a part-time staff because of my great contribution during my 3 years full-time employment since year 2004. *smug*
I was the chief planner of this trip. Because of the budget given was limited, we were only able to fly to Macau (again). This was my second time to Macau and the first time was also a company trip.
Me at Macau Ferry Terminal (Year 2005)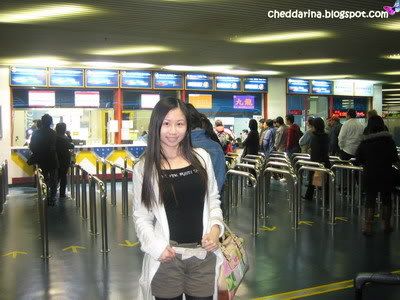 Me at Macau Ferry Terminal (Year 2008)
U can spot no changes on my look. I'm still the tiny girl with long straight hair. The only difference is the fine lines on my face and eyes are more visible now. Hmmm.... Maybe I didn't even have fine lines three years ago. *Sigh*
I want to throw my Estee Lauder, Clinique and Lancome skin care products and opt to botox or something that can yield fast and visible results plus complete wrinkle prevention! Ok, I'm just kidding. Botox is too dangerous for me though it's not very expensive. I had the impulse to try a Botox injection when I was in Taipei. (So you understand why there are so many
"chun chicks"
in Taiwan)
Back to the story. Before we departed to Hong Kong by turbojet, we visited a very beautiful place in Macau.
It was.............
Macau Fisherman's Wharf
Macau Fisherman's Wharf is just beside the ferry terminal and it features many attractions such as Vulcania, Aladdin's Fort, Aqua Romanis, Roman Amphitheatre and so on.
Pardon my pale look without makeup after 4 hours' flight
First attraction--- Tang Dynasty
Surprisingly, Christmas decorations were still on
War Game available here!
Is the gun real?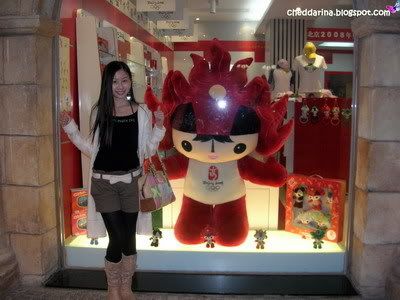 Who looks cuter?
Time to eat!!!!
We chose to dine in a Si Chuan restaurant. Scroll down to see what we ordered.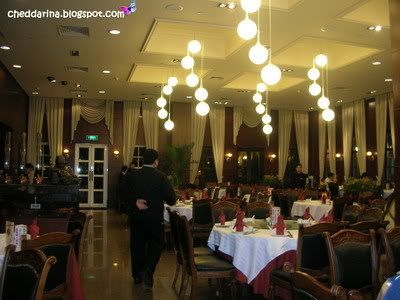 Here I come!
Pork with garlic paste and chili oil
Deep fried pork rib served with potatoes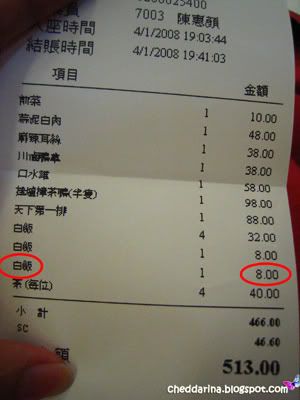 This dinner was not cheap because one bowl of rice cost about RM3.80. However, all the dishes were very special to me and they really tasted above the average.
We didn't have enough time to take more photos because we got to catch the turbojet to Hong Kong. So we just "walked horse saw flower" and most importantly, took as many photos as we could.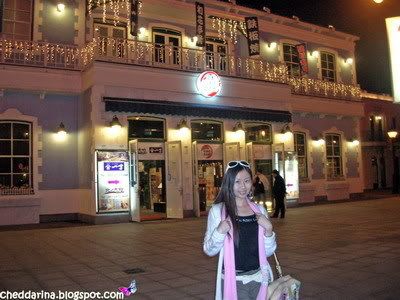 Cape Town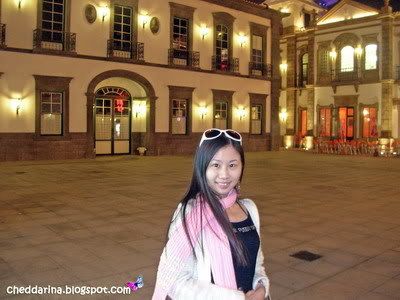 Campo Maior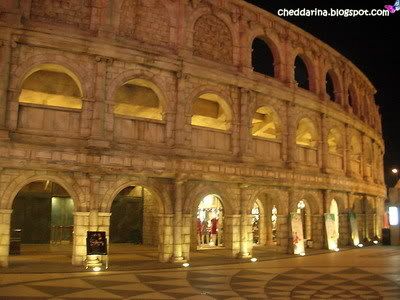 Roman Amphitheatre
Is this Fisherman's Wharf nice? I bet you would definitely say yes. Undoubtedly , Macau is not just the place for gambling and Portuguese tarts. And what's more? The entrance to Fisherman's Wharf is free of charge!!!!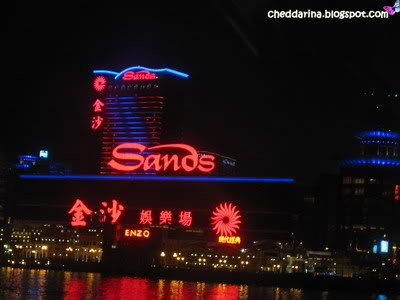 Pictures taken in the turbojet. On my way to Hong Kong.............
Attention! Hong Kong's hottest spots and foods are on the way. Please be patient because all the foods (photos) are chilled in the fridge (computer) for too long time and I need some time to warm (photoshop) it because I've no microwave (internet) when I want to eat (blog).