Hey, all my dear frens! I'm back!
Let me tell you the main reason for my disappearance. I spend most of my time for my work (9 hours), travelling (6 hours) and sleep (5 hours). My office has just relocated to Batu Caves and I travel from Seremban to my office EVERYDAY by KTM, LRT and company bus temporarily. So I have only 4 hours a day to shower, have my dinner, read newspaper, do facial scrub and mask, iron my clothes and etc. Ok, I know you will think I'm crazy but i don't have choice because it's very hard (and I'm very choosy) to find a ROOM nearby my office.
I was busy shopping during weekends lately because I just couldn't resist from buying things to reward myself after working like cow.
Don't worry, I'll have more time to stay connected with you all very soon because I have a

secret plan

. Hehe.
I just celebrated my birthday on 27th.

You all must buy me presents!

(Kidding)
I only managed to have an ordinary celebration with my beloved one because I was working on that day.
My birthday cake
Ooops..... I revealed my age!
Ok la..... I shall not lie to you all
The photos below prove that
I'm still alive
though I'm now look like 3 years older than my actual age.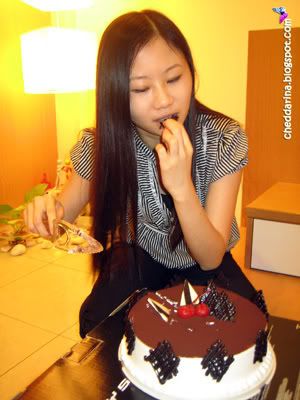 Sorry, I was too hungry because I just back from work......
To see my old-looking face, stay tuned for my next post for another celebration!