Italianni's @ One Utama
This belated birthday dinner disappointed me because the food wasn't up to standard. I placed quite high expectation on the food because I had given a good ratings for Italianni's after trying so many specialties and dishes during Ringo's birthday celebration last year.
What was the best dish I had here?
It was the starter.
…
…
…
…
…
…
…
BREAD
Served with olive oil and black vinegar
Then we had this............
Salmon Fettuccine
This salmon fettuccine did look and taste delectable and the salmon was very fresh. But the worst thing was………. the whole plate of fettuccine was too dry. Imagine you are eating dried wantan mee without sufficient soy sauce. As a result, we had to ask the waiter to add some sauce for us.
Let's look at what they recommended me to order.
Steak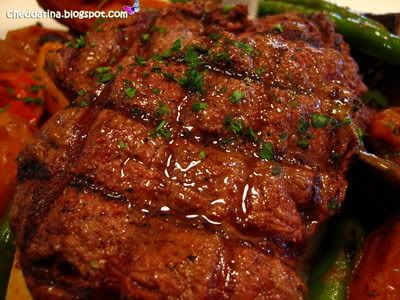 Served over medley of roasted rosemary potatoes, tomatoes, wild mushrooms and a slice of garlic bread
Superbly moist and tender, the steak was grilled to perfection but I just didn't like its taste. Maybe I'm used to eat steak that is served with sauce. It's undeniable that as a Malaysian, we always ask for sauce when you eat. Be it chilli sauce, tomato sauce, mustard, barbeque sauce, black pepper sauce, XO sauce, creamy butter cheese sauce and so on.
One thing is never been changed since my first visit …..
Their good service.
P/S: I just back from Gold Coast. Photos will be uploaded soon.