It was a usual Sunday but I decided to make it a day for special outing. Of course KL was only my choice and this outing really delighted me as you will never find such a nice place and nice food in the boring dead town, Seremban.
Where do you guys normally go when you want to look for nice dim sum in KL?
For me, I love the dim sum in

Tai Zi Heen

at Prince Hotel & Residence KL. It is an

award-winning

chinese restaurant that offers the finest dim sum and Chinese cuisine.
If you think Ming Kok Restaurant in Seremban can satisfy your appetite, then you will love the dim sum in Tai Zi Heen to death as it tasted

100 times

better than the one in Seremban. Ok, but the price of one plate of dim sum is 4 or 5 times more expensive than Ming Kok.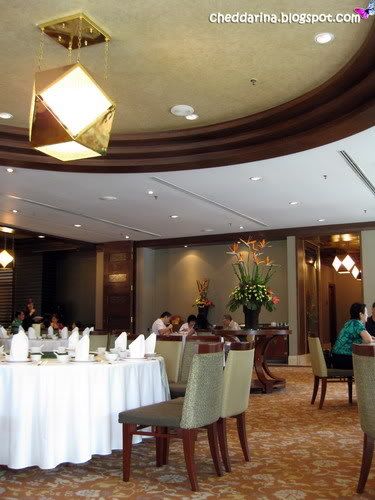 Impressive décor and delightful dining atmosphere
You can view the 2000-piece crystal chandelier in the dining hall at Tai Zi Heen.
The menu
So are you ready to scroll down for the

CLIMAX

of this post?
Please do not drool………….
Seafood congee with fresh scallops
The porridge was super duper smooth with lots of scallops inside
Dim sum and cheese lovers will definitely like this.
Pan-fried crispy beancurd tian with parmesan cheese & shrimp. Because of the words of "parmesan cheese", I could hardly resist myself from not ordering it.
The cheese was oozing out..... Perfect combination!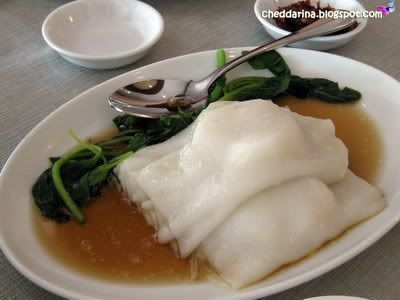 Steamed rice rolls filled with fresh scallops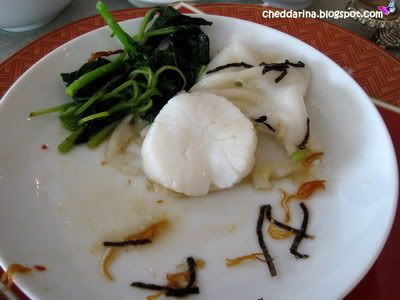 Can you see how big the scallop is?
Steamed beancurd skin roulade topped with sun dried scallop shreds & abalone sauce
It's so juicy and also perfect to whet the appetite
Stop drooling ok?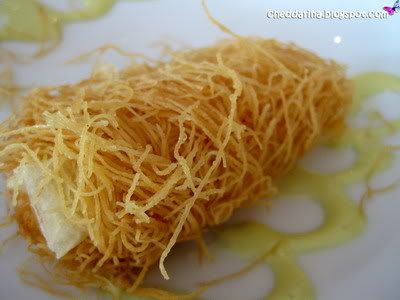 Prawn mango katafi with wasabi dressing
This was the

BEST

amongst all dim sum that I ordered. Words to describe:

C

rispy, aromatic and heavenly delicious!
Chef's signature Dish- A selection of premium dim sum that costs RM22 for a plate
Steamed chicken & shrimp dumpling filled with fresh scallop & black pepper (Siew Mai)
Steamed crystal dumpling filled with truffled shrimp (Har Kau)
Ok. Let me reveal how it looks............
Black colour Har Kau? But it tasted extremely yummy because the prawns were so big and fresh
Crispy yam puffs filled with chicken, mushroom and black pepper sauce
All the dim sum were heavenly delicious except this: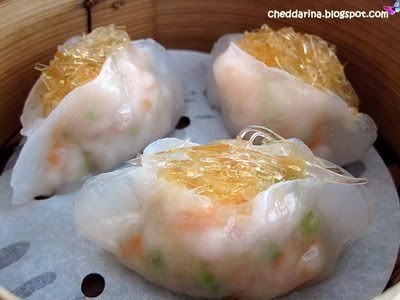 Steamed shark's fin dumpling with prawn and vegetables
It wasn't that bad but just did not meet my expectation.
Finally, it's dessert time. We rounded up our meal with a refreshing and zesty offering, "Mango pudding served with tangy mango sauce". But this mango pudding still cannot beat the one I tried in Hong Kong.
0__o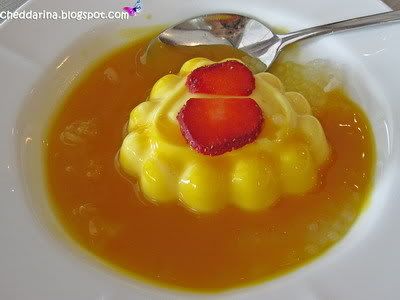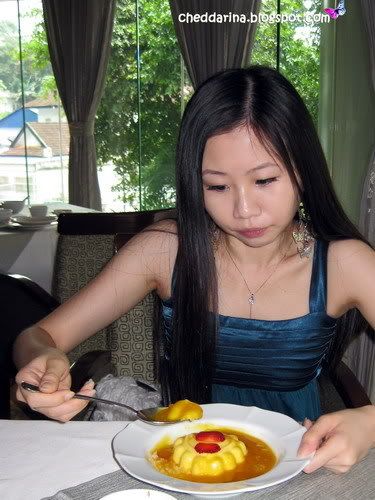 And lastly, got myself posing in front of the restaurant to capture that 2000-piece crystal chandelier.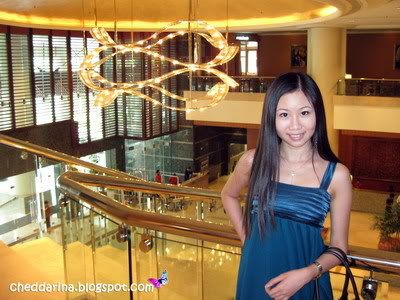 After having a hearty meal at Tai Zi Heen, I went to a bar with the most relaxing and delightful ambience called ..................................
(TO BE CONTINUED)