I bought quite a lot of new skincare products recently. After being a white rat in the lab for few weeks, I'm now putting my sacrifices into a research report and make a conclusion for each one that I have experimented.
ASSATA Pore Minimising Serum
RM145 @ Assata Skincare Centre
It delivers excellent results if you are the one who always squeeze your blackheads and whiteheads like me. Usually our pores will get larger after the extraction. But miracle does happen. By applying the serum after the extraction, your open pores will be minimised to pre-extraction pore size.
CONCLUSION:
It's not a perfect solution to get rid of large pores problem eternally because I found that it only delivers visible result when I apply after the extraction
.
RATING:
GOOD
MELILEA Advanced Toning System
RM289. You can get it from all Melilea distributors.
This Advance Toning System comprises of one facial massager and one hydrating gel. Hydrating gel must be applied on clean face before you start massaging. Using the facial massager requires some techniques. Wrong techniques will not bring any adverse effects but it just can't deliver the lifting and firming results.
According to the distributors from Melilea, this massager is good in firming, lifting and reducing the fine lines and wrinkles on your face. In addition, it can give you a more even skin tone and brighter complexion as massaging can enhance the blood circularisation.
CONCLUSION:
I GAVE UP. I've been using this for three consecutive weeks but no visible results are obtained. I'm unsure whether I use the wrong technique or the product itself is not effective.
RATING:
POOR
SUISSE PROGRAM Revitalising Eye Mask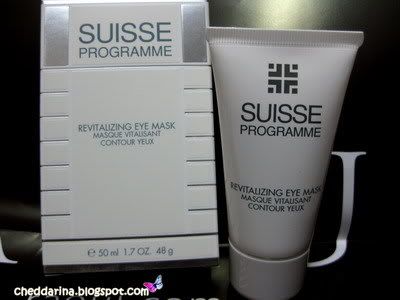 RM189 @ Sasa
This is a cream type mask that requires you to rinse off after the application.
CONCLUSION:
The result is below my expectation.
RATING:
AVERAGE

BEAUTY TALK Oxy Mask
RM199 @ SASA
This is the most recommended rinse-off mask in SASA outlet. I bought this because this mask is so special. It will produce small bubbles after applying, and the bubbles will disappear slowly while the moisture is being absorbed into the skin.
CONCLUSION:
It looks amazing, but after rinsing off with water, my skin has a slight tingling effect. According to the promoter in SASA, the tingling effect is due to the reaction of the ingredients when it generates more oxygen for your skin. I'm not sure whether this is true because I'm unable to see the oxygen level in my skin. So do you believe it? And please do not use if your skin is peeling as it will cause irritation or redness.
RATING:
AVERAGE


CLINIQUE Derma White Brightening Eye Cream & Eye Protector SPF 15
Two products in one price. RM135 @ all leading department stores
The Brightening Eye Cream can be used during daytime and also night time. It's a non greasy yet smooth and hydrating cream.
Not only the face needs sun protection, the delicate eye area needs as well. The white-base cream of the eye protector is very good in covering your dark eye circles for a very natural look.
CONCLUSION:
Do not expect the whitening of eye area will happen because I know that all kind of whitening products within this price range doesn't work well. I'm just looking for hydration and eye protection.
RATING:
GOOD
CLINIQUE Moisture Surge Extended Thirst Relief (Left)
CLINIQUE All About Eyes Rich (Right)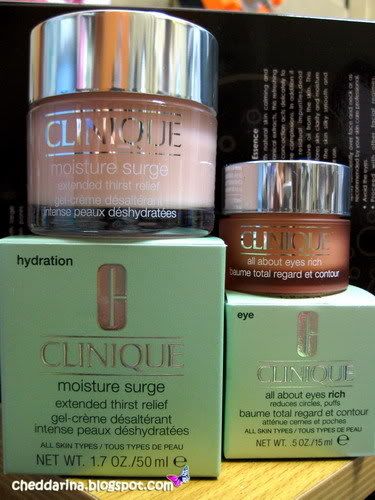 RM160 (left) & RM130 (right) @ all leading department stores
CLINIQUE Moisture Surge Extended Thirst Relief-
I love this hydrating cream simply because it gives my skin a smooth and velvety finish. It's my best screensaver skin saver when I travel because it can be used as a mask. No rinse-off is required. So I just apply a thick layer of the cream and then jump into the bed without worrying what time I need to rinse or remove it.
CONCLUSION:
It's the best hydrating cream ever as it can be applied at any time under or over make up. Cool right?

RATING:
EXCELLENT!!!
CLINIQUE All About Eyes Rich
- This All About Eyes Rich is good for the dehydrating eye area. It works better than the All About Eyes, the oil-free version as it provides higher moisture level.
CONCLUSION:
It's better than any eye cream within the same price range that I used before.
RATING:
GOOD