Hi, I'm back to work after my CNY holiday. So coincidentally chosen fifth day of CNY to start my work in this brand new lunar year. They said today is a super auspicious day for "hoi gong" wor. So I wanna wish myself abundance of wealth and health in the years ahead. I want "Fatt Dai Choi" lol.
I feel extremely tired because consecutively lack of sleep for one whole week. Every morning need to apply foundation to conceal my panda eyes.
Despite how tired I am, I will still remember to update my blog with my pre-wedding photos as I promised. This would be the last batch of selected pre-wedding photos.
Here you go! My
PutraJaya outdoor pre-wedding photos
.....
Super love this photo because I can feel the happiness. I actually requested the photographer to shot like this. Wow.... I'm such a brilliant!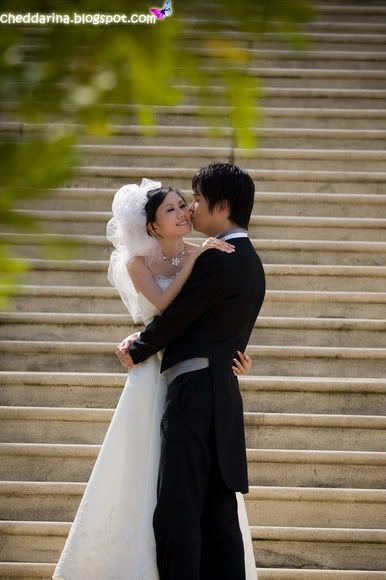 Kissing on my left cheek
My hubby looked so handsome in this photo. Do you agree with me? Haha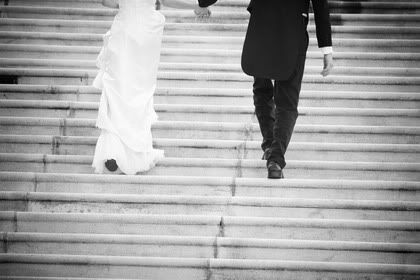 Holding hands and climbing up together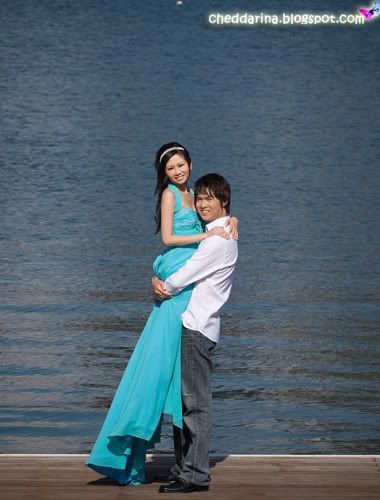 Unable to open my eyes under the scorching sun
Love this scene especially the cloud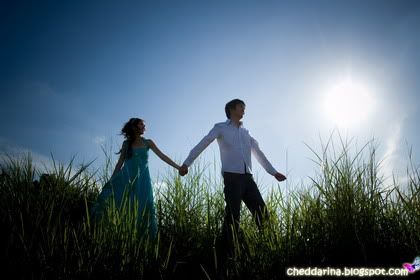 See the sun? But without its existence, we would not be able to take all those nice shots because good weather is the most crucial key for outdoor shots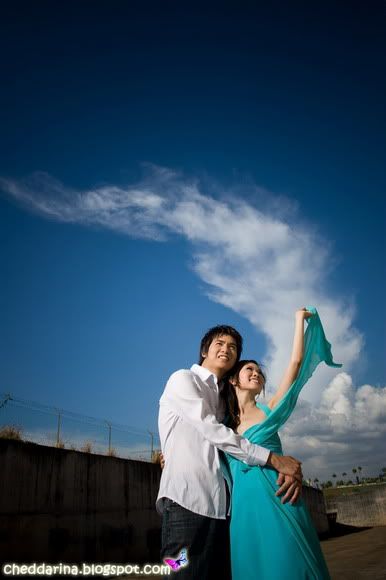 The flying cloud is so damn nice!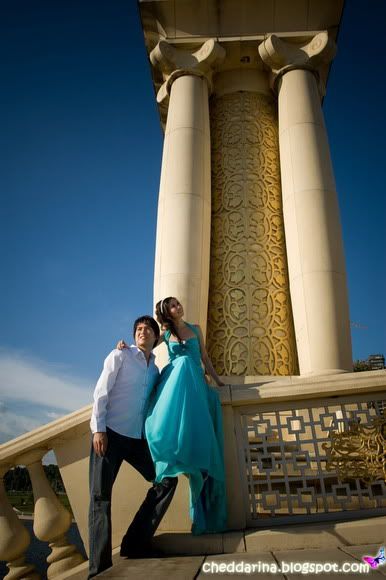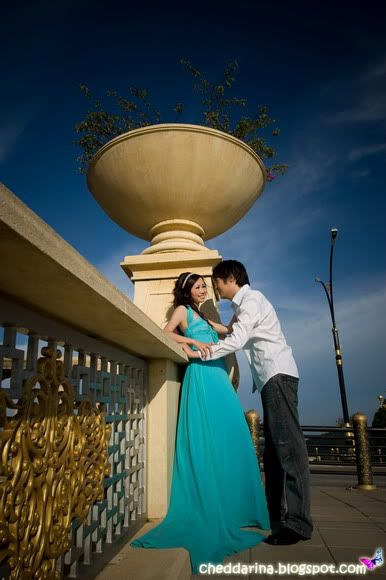 Though this empire-cut gown wasn't that fit on me, but it looked surprisingly nice in all the photos.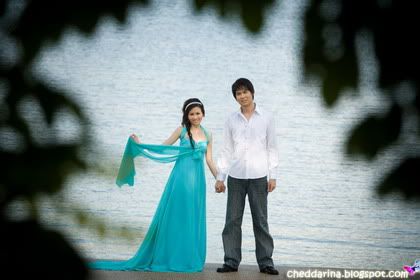 A special shot with the green leaves as frame
Our neck was so tired after taking these shots as we needed to look up while the photographer took the photos from 1st floor of a building. Thumbs up for his hard work.
SAVE THE BEST FOR LAST..........................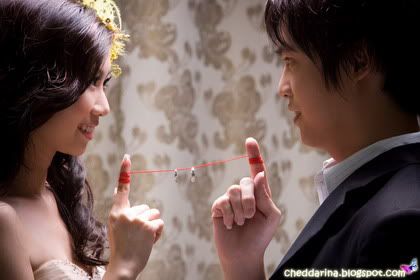 This is the most meaningful shot. Also requested by me. I brought the rings and the red string and showed them how I want it to be done. Inspired by a Taiwanese wedding gallery.
For those who think I've done a really good job on my pre-wedding photos, I can just share with you all some tricks.
1) Despite which wedding gallery you choose, you must choose a photographer only after viewing their portfolio. This can give you a clearer idea on their photography skills and styles. This is the most important thing you need to do before shooting. A good photographer can camouflage your imperfections and take superb photos.
2) Spend time to do research and sort out what kind of photos you like. Some couples prefer funny and playful style but some prefer romantic and classic style.
3) Communicate your ideas with the photographer chosen. No one will know what you like if you keep silent. This is to avoid: "I don't like the pictures taken by the photographer because majority of the photos are close up shots" or "Why all my photos are so "leong beng" or look like those taken in 80s'?"
4) Try to get an experienced makeup artist if you think your face is not that easy to "kao tim". Before fixing the date for shooting, ask the person-in-charge who is the most experienced makeup artist in that wedding gallery. Experienced means at least 5 years and not 2 years k?
5) Tell the makeup artist what you like and what you would like to try. If you are so confident in your own decision that a particular hairstyle doesn't suit you, don't compromise with her suggestion as no one can understand your face shape better than yourself.
Hope the above tips can help you all and don't forget to thank me if you got your shots done beautifully after picking up my tricks. Haha....
What's
next?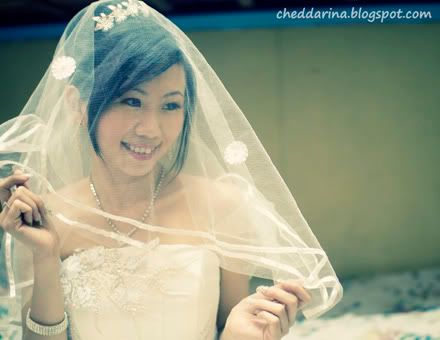 Finally got my actual day photos from my photographer. I know you all can't wait to view all the photos but please be patient ok?
I'll post the morning session photos and let you all see how the groomsmen being tortured by my gorgeous bridesmaids.
STAY TUNED!