Promised you all to post my wedding actual day photos but I just realised that I missed out something very important.
I must blog this if not i will regret as these are all my BABIES.
Want to know how I make my BABIES? Don't want to tell you. Haha.
What are you thinking, huh?
MY BABIES ARE ALL HERE!!!
...................
........................
...........................
..............................
..................................
........................................
.............................................
Wedding rings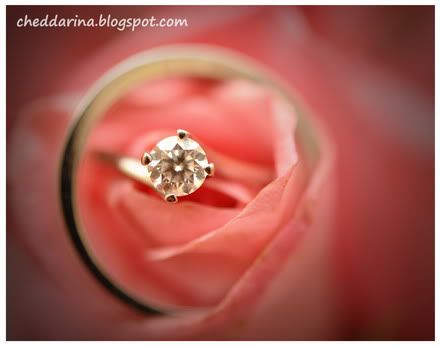 My first babies. They are twins! But one has a big shining mold on face. LOL
If you want to buy a perfect ring, you should first choose a diamond, then choose a ring to go with it. This is what I did! I finally chose the Heart & Arrow perfect cut round diamond and decided to take a four-prong setting ring.
When you look at a Hearts and Arrow diamond through a special viewer, you can see little hearts on the pavilion side and little arrows on the crown side. I couldn't stop viewing this icy-white stone when I just got it home.
Pre-wedding photo albums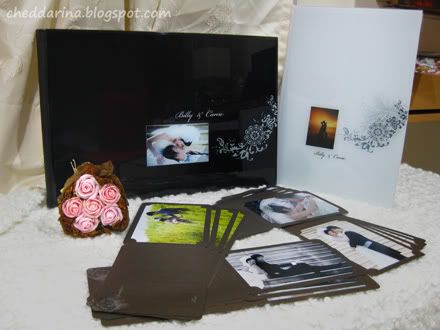 My second babies. They are twins too! One bigger and one smaller but different skin colour.
I called them my BABIES because I involved in the album design since I'm a perfectionist. Some of the layouts designed by the wedding gallery were really below standard. I didn't know how to play with layers in Photoshop before this but forced to learn it as I don't want lousy designs appeared in my albums. I'm able to explore and find the right way to do all that within 2 weeks. It's a miracle! But I slept at 4am almost every night in order to rush for the design.
So nothing is impossible ok?
Frame of 囍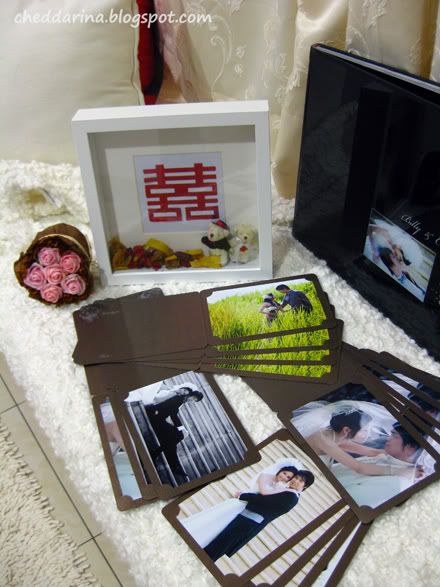 Got this white photo frame from Ikea. I put a pair of wedding bears inside with some aromatic dried flowers and finally the 囍 word. Very special right?
Of course not to omit the "Ji Mui" photos. Love the cover provided by the wedding gallery.
Wedding invitation cards
These are all DIY cards. Nice or not? Guess who design for me?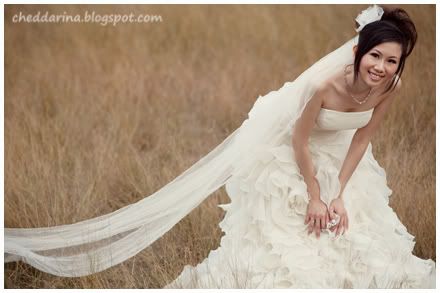 It's her. The gorgeous and brilliant bride! Please don't vomit ok? LOL
I did all the design, sourcing of material, typing, cutting and pasting. I can't believe that I can be so creative! I should change my job!
Hmmm…… One's effort can't be forgotten……..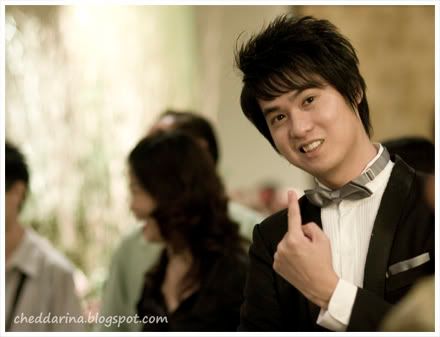 It's him. My lovely hubby!
He contributed a little bit in the design but 80% of paper cutting and pasting job were done by him. His cutting skill is unbelievable good and fast!
Our Private Haven
Let's have a glimpse of our taste of living.
Bedroom closet with a connecting couch + dressing table + canvas art cabinet + writing desk.
My secret treasure chest- 12 doors wardrobe with a rectangular display rack in the middle and a quarter round display cabinet on the left. Who says bedroom closet is boring and unremarkable?
This small rack with mirror is full with decorative items from all my friends. This is a great way to add personality to the overall space.
Wedding table lamp
Our comfy tatami bed and soft sheepskin rug. Can you see the square canvas portraits on my wall? Love them very much as they are so versatile til I can change the way to arrange it in many many ways to suit to my mood. Maybe next time I can put it inside my washroom.
Table lamp from Ikea
Wallpapering this Sony brand corner to enhance the beauty and individuality of our room. I fall in love with this white background with round silver shiny dots wallpaper.
Those Sony thingies are my hubby's babies. His collection includes PS2 (not in this photo) PS3, 42" LCD HD TV, DVD player, BlueRay Disc player, sound system and X Box (put in side wardrobe as he wants to make this as Sony brand corner). So I think he spends more than me in a year.
Dressing table, designed by me to put in all my accessories.
Racks inside our bathroom.
A basic yet comfy bathroom with a super big mirror specially installed for me! From the mirror, you can see my sliding shower door, separating the wet floor with the dry one. I don't like my legs get wet everytime when I enter into the toilet.
The room is 70% designed by my hubby and 30% by myself. Aren't we are good interior designers?
So now, you all know I had been busy making my BABIES for the past few months and that's why I was like a dead blogger.
Baby-making mission completed
and I'm now ready to blog more.
My wedding actual day photos will be posted real soon.
I have about 100 pieces of nicely compiled and designed photos. So make sure you delete all the temporary internet files stored inside your computer to make loading faster!