CONTINUED FROM PART 1
You better love me because I decided to make this long post as my last post of my wedding banquet series, which means I will reveal who was my MUA for my wedding banquet at the end of this post.
Tadaa...............
Changed a sweet and lovely violet modern princess gown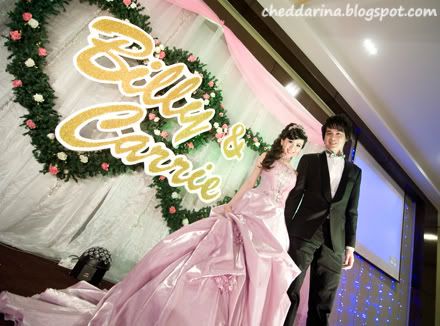 Cake cutting ceremony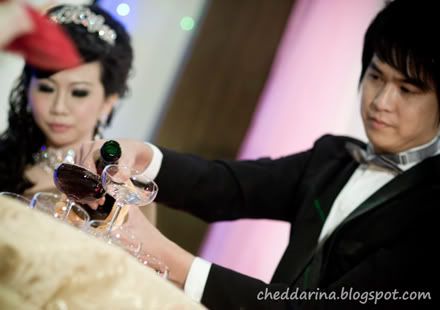 Champaigne Champaigne, we share our joy and pain under the sun and also in the rain
Ready to "yam seng"?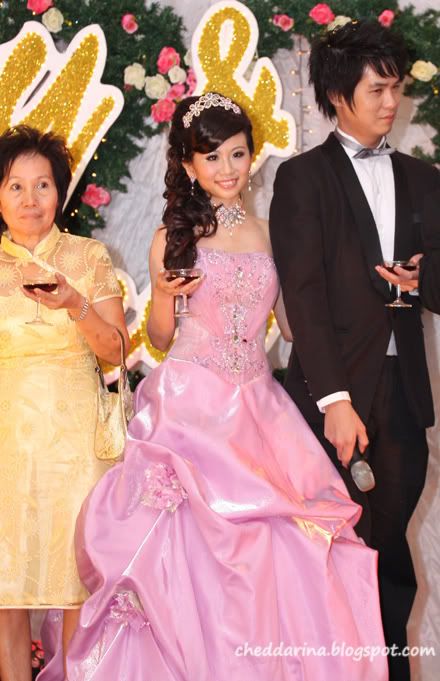 Oh, my friends all said my hubby looked like Korean.
I fall in love with these set of bling bling accessories provided by my MUA. They matched my gown so perfectly!
This is the evening gown that I love most. Special hourglass design with crytals, beads and sequinnes become the focus of this gown
OMG! Why I opened my mouth so big?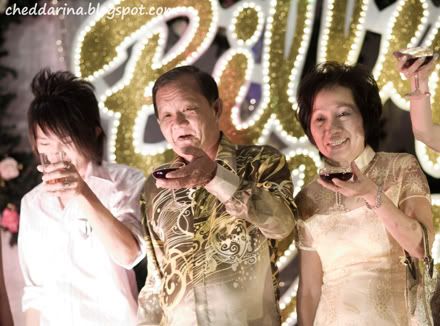 Really love the small dazzling light bulbs surrounded the
"Billy & Carrie" words on the stage. But they were too big for me to bring back to hang on my bedroom wall. What a waste!
Let's "Yam Seng"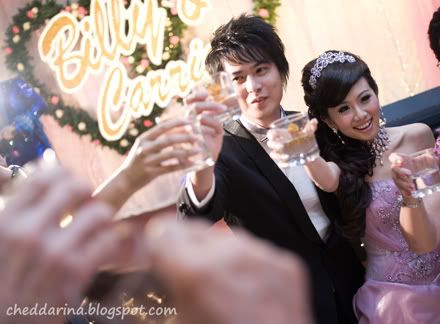 "Yam Seng" table by table. We only drank plain water and no one spotted because everyone wanted to take photo with me. So who would care what you drink?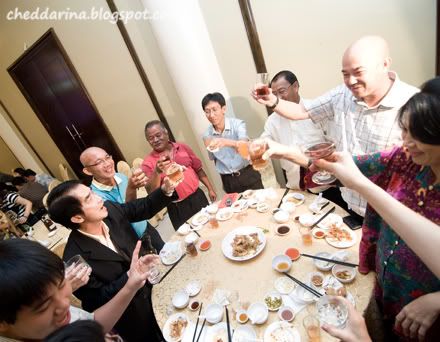 My only mission in this wedding dinner was to take photo with every guests that we invited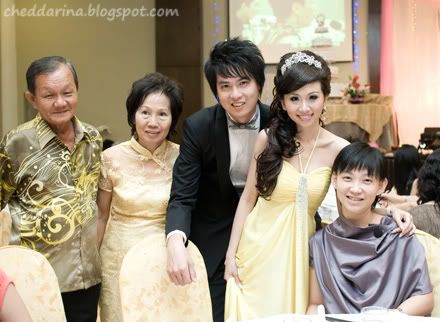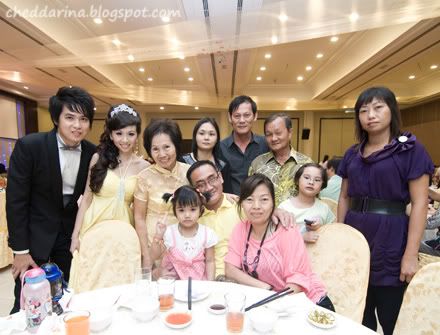 The dinner finally ended at 11pm. I was so unwilling to say goodbye to my guests as I haven't finished my camwhore session with my dear friends
Of course not to forget my lovely dad & mum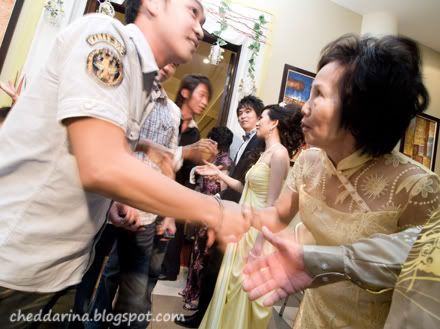 First time saying thank you for countless time
Family portrait. Did you notice that my hubby's hair style was exactly same with my brothers?
My younger brothers
Camwhore with Cheesie to the max!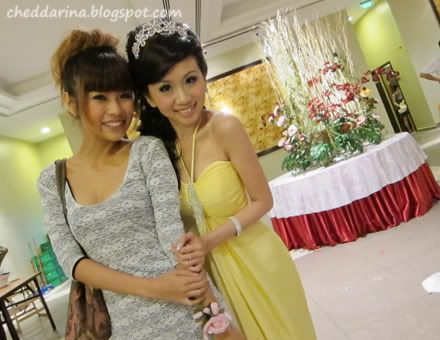 This fisheye effect made my hubby's head so BIG!
Almost forgot our bunting at the entrance
THE END
I spent ONE hour to detangle, comb and wash my hair when I got home. Heartache after seeing countless hair falling. This is all the price to pay for the beauty.
That's why you seldom see me tie up my hair (And I'm also very lazy for that). Haha.
.....................................................................................
For those who are so keen to know who was my MUA and photographer on my wedding banquet, here's the answer.
Makeup Artist
Name: Eric Chong (Ambridge Cottage, Melaka)
Contact number:012-6360586/06-2812668
Eric Chong and his sister, Agnes are both famous MUA in Melaka. And he came all the way from Melaka to Seremban after doing a makeup for Amber Chia at Dataran Pahlawan Melaka Megamall. So it was quite expensive since I had to pay for his transportation charge.
But it's all worth it because the accessories provided by him were all so classy and elegant and I believe most of the bridal shop couldn't beat this.
In addition, his makeup skill is unquestionably good.
Photographer

Name: Kevin Loh
Contact number:012-6546668
Kevin is a photographer from KL with high creativity and professionalism. I'm so satisfied with the photos and slideshows he did.
Kiss me with a million of comments saying thank you ok?
WHAT'S NEXT?
I'm going to reveal my secret formulas for SMOOTH and SILKY skin on my Big Day (Past) and also the small day (Present- as I found my secret formulas works very well and I still continue to practise to achieve flawless complexion).
Hey girls (or guys if you are interested), pls do not forget to visit me again if you long and determine to have velvelty smooth and radiant skin.
TRUST ME, YOU CAN MAKE THE DIFFERENCE!