Mount Hakodate
Hakodate's night view from the top of Mt. Hakodate is known as one of the
t
op three most beautiful night views in the world
(the other two being Hong Kong and Naples). That's 2 out of 3 for me! One more to go! Click
HERE
if you wanna check out my Hong Kong night view photos.
It was a Sunday and thus the crowd was terrible and I couldn't even find a place to shot properly with my tripod.
Can you see the crowd? How am I going to take photos like this? T___T
We managed to squeeze in the crowd but the quality of the photos taken were not as good as our expectation due to the camera shake under low light condition.
There were three Taiwanese girls stood in front of me, which was the front row and also the best angle to take photos. From their conversation, I found out that they came at
4pm
just to book this place. WTF! I just couldn't believe that!
It was 7.15pm and the light was just fully lit up.
They came 4pm to get the place?
I found my way.
See what I did.
Me:
Can you please let him (my hubby) stand here for a while? *pointing at the place she stood* We just want to snap a few photos and I will leave after this because my tour guide is waiting me downstair.
Taiwanese girls:
Ok *reluctantly walked out and let my husband went into the first row*
So I managed to bring back these night view shots to share with you all.
And this is what Hakodate is famous for,
"one million dollar" night view
(yakei in japanese)!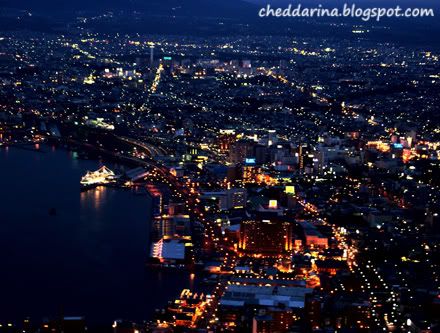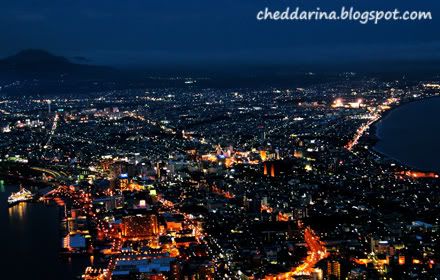 Fan-shaped townscape of Hakodate between the Tsugaru Straits and Hakodate Bay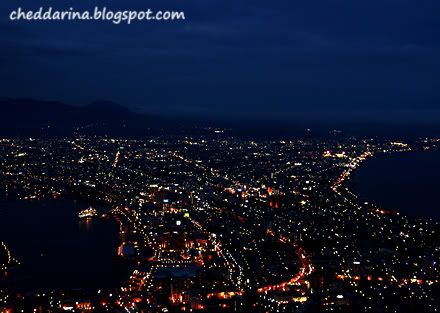 CLICK THE PHOTO FOR LARGER IMAGE
Bonus of the night- Hanabi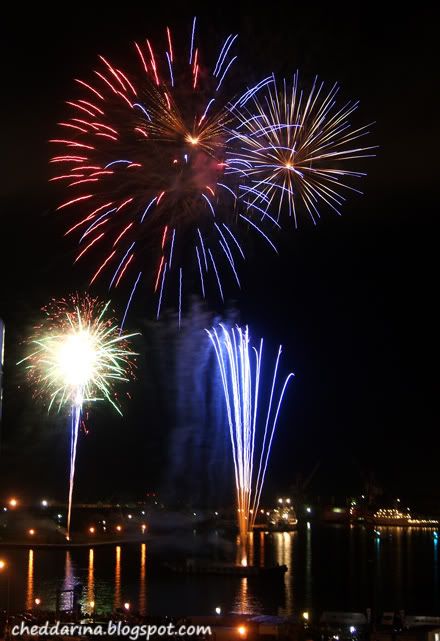 Summer Fireworks Displays for 20 minutes
Fireworks are popular in Hokkaido throughout the summer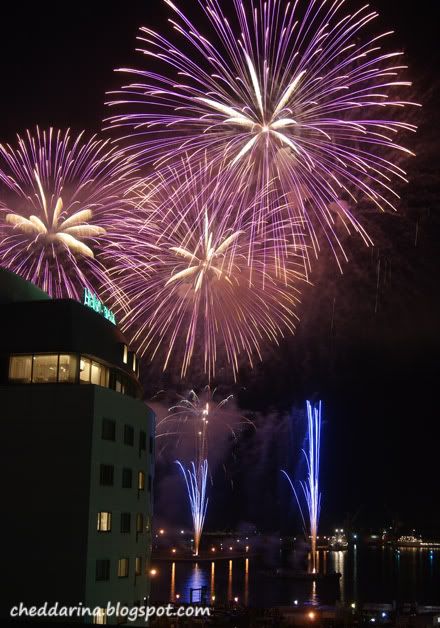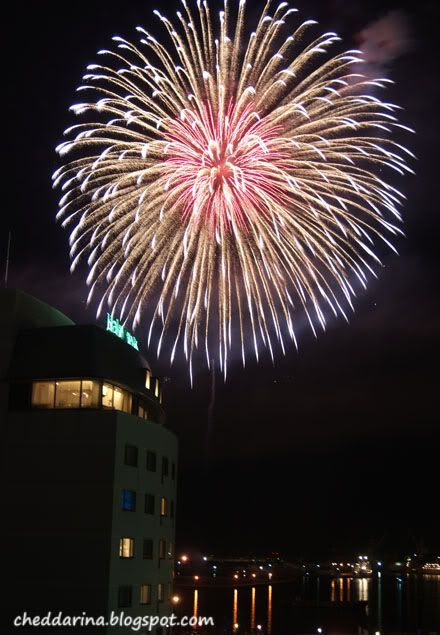 This was the view from our hotel's window. Truly an awesome experience!